INTERNORGA Future Award
Your idea of the future
Every year, the nominees and award winners generate excitement among the expert judges and the 96,000 trade visitors. Take this opportunity for your future.
This award for innovation and sustainability is hosted by Hamburg Messe und Congress to honour:
Innovative products and production lines which combine functionality and good ecology
Innovative applications and forward looking corporate strategies which define the market and change the competitive situation
---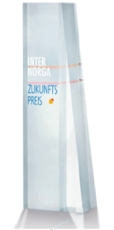 Benefit from the impact of INTERNORGA
This is your chance to see how the future works. Our expert judges look forward to your entry. If you are nominated, you can expect plenty of attention thanks to our multi-media communication before, during and after the trade show:
Short image film of your entry
Prominent inclusion in the press work for INTERNORGA
Facebook posts with exciting facts and insights into your entry
Newsletter sent out to more than 125,000 national and international subscribers
Presence throughout the year on the INTERNORGA website
Attendance at the exclusive Award Presentation with delegates from the industry, from government and commercial companies
Description of your entry in the brochure at the Award Presentation
Poster panels at all entrances to the fair, indicating nominees and winners
"INTERNORGA Future Award Nominee/Winner" in your communication
---
The INTERNORGA future award is awarded in a structured and transparent evaluation process. The award follows a sustainable strategic approach and is orientated on the overall various effects that a product or company has in and beyond its own sector.
The trendsetters in their sector – companies, who set the highest standards to their power of innovation and the social and ecological effects of their products and their own company and thus are an example for their sector, are rewarded. The following are evaluated e.g.:
Energy and materials saving and efficiency in production and use
Innovating technologies to promote sustainable development
Raw materials originating from organic ecological and resource- retaining production
Smart updating and recycling solutions for consumption goods and raw materials
Practice-relevant innovations for work and processing processes
Social and ecological company responsibility
Strong, innovative and high quality craftsmanship
Exemplary sustainability concepts and strategies
And lots more...
---