BE THERE. INTERNORGA.
Five days that push your business forward by years.
INITIATOR. TREND FACTORY. MEETING POINT.
The leading trade show for the entire out-of-home-market offers everything a successful company needs over five days. A celebrated source of visionary concepts, INTERNORGA will once again be the meeting point for professionals and decision makers from around the world in 2019. The place to get informed. The place to meet people. The place to find masses of inspiration and new potential for your business.
Top decision makers are excited to see what you have to offer. Be there!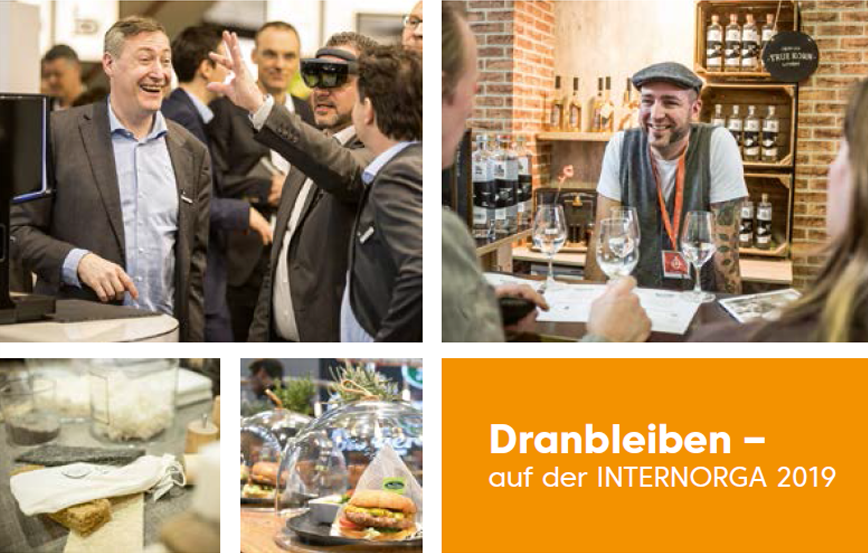 All information for exhibitors
The INTERNORGA brochure with all the reasons why to be there. Here you will find all results of our exhibitor and visitor surveys as well as all important information about INTERNORGA 2019.
INTERNORGA at a glance
Passion for innovation, wide variety of exhibitors and depth of content. This three-part harmony, together with a strategic orientation towards a high-end specialist visitor audience, combine to make INTERNORGA your reliable sector platform and order platform for catering and food service.
The INTERNORGA Service Team is on hand to advise and support you with any additional technical information you may need. All overviews and forms for approvals, exhibition build delivery and parking information can be found here.
A full-service provider; HMC has a wealth of experience organising and staging domestic and international exhibitions and conferences. Our highly versed and motivated service team delixers outstanding service in all areas. A wide range of services can also be accessed via our online service centre.